18, 20, 22, 24, 26, 28A & 28 - 30 Albert Street, Mansfield, Nottinghamshire, NG18 1EB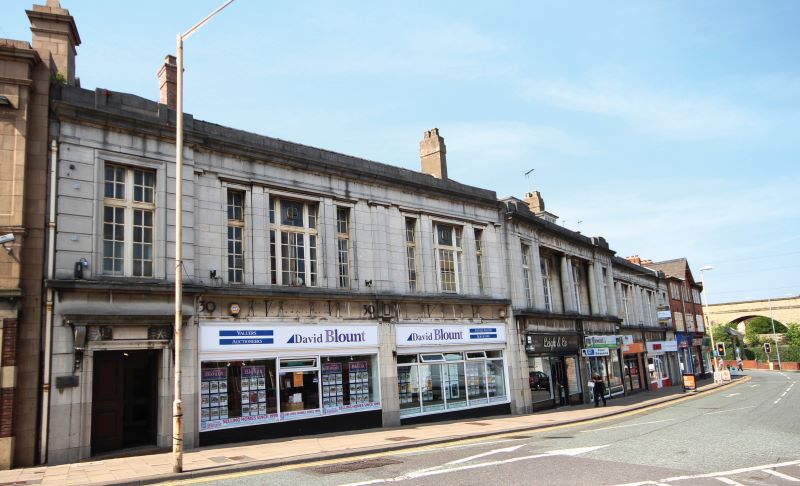 Auction sale - Monday 11th December 2017
Result:
Unsold, the last bid was £740,000 and is available at £750,000
Upon the instructions of
Freehold
Five retail units, upper floors, offices and car park
Management, letting and review opportunities
Producing £80,050 per annum - part vacant
Development/alternative use potential
Addendum
18, 20, 22, 24, 26, 28A & 28 - 30 Albert Street
Note the tenant of the dance hall has now vacated and the total income before re letting will be £69,550 per annum.

Details
Location
Mansfield is a busy market town with a district population of around 100,000 located 19 miles north of Nottingham with Sheffield 22 miles to the North-West. Key neighbouring towns include Worksop, Newark and Chesterfield
Mansfield lies within 10 minutes drive of junctions 27, 28 & 29 of the M1 and 18 miles from the A1 and the town is served by two rail stations. The town centre is dominated by the Four Seasons, the West Gate and St Peters Retail Shopping Centres with the town offering a full range of UK multiple retailers. Mansfield also has a popular five day a week open market that has traded for over 800 years. The properties lie in the town centre close to the rail station and St Peters Retail centre, and enjoy a long and prominent frontage to Albert Street at its junction with Station Street. The immediate area is popular with estate agents.
The rear of the property is accessed via Clerkson Street, which also accesses the parking areas.
Description
The property which dates from the early 1900's comprises a terrace of five retail units with one and two floors over. The property forms a part of a longer terrace, and is an area popular with estate agents and property letting tenants.
The property has stone faced elevations and incorporates at 18 and 28A double wooden door street entrances to self contained first floor offices. To the rear of the building, accessed via Clerkson Street is a large self contained three storey office building with three parking bays as well as a single storey full height vaulted ceiling dance hall and electricty sub station. There are also two car park areas at the rear of the property with 15 bays.
Tenure
Freehold
VAT
Refer to the legal documentation
Energy Performance Certificate
See website
Planning
The self contained first floor office suites may offer an opportunity for alternative uses, and all enquiries should be made to the Mansfield Council planning department at
Mansfield.gov.uk (01623 463463)
| Address | Accommodation | Tenant | Lease Terms | Rent £ pa |
| --- | --- | --- | --- | --- |
| 18 Albert Street | First floor (self contained 790 sq ft) | Vacant | | |
| 20 Albert Street | Ground floor retail/storage (630 sq ft) | Keywood Mansfield Ltd | 12 years exp 28/09/2027 | £10,500 reviewed 3 yearly - next Sept 2018 |
| 22 Albert Street | Ground floor (777 sq ft ITZA) & two upper floors | I Bowes & M Boucher | Holding over from 2010 | £16,250 (2007) |
| 24 Albert Street | Ground floor estate agency (482 sq ft) | Pinewood Property Lettings Ltd (with surety) | 12 years exp 25/06/2024 | £10,000 reviewed 3 yearly - next 2018 |
| 26 Albert Street | Ground floor retail (556 sq ft) | William Thompson | Holding over from 2016 | £9,900 (2007) |
| 28/30 Albert Street | Ground floor (ITZA 723 sq ft ) | DG Blount & ND Temple | To vacate 31/01/2018 | £15,200 (inc parking space £520) |
| 28A Albert Street | First floor offices (self contained 472 sq ft) | NSL Ltd | 5 years exp 11/06/2020 | Peppercorn until reviewed in March 2018 |
| Clerkson Street-hall | Ground floor & mezzannine (2,440 sq ft) | Brierley & Worboys | To vacate 08/12/2017 | |
| Clerkson Street-Offices | Ground, First & second floors (2,539 sq ft) | Vacant | | |
| Clerkson Street carpark | Two car parks with 15 spaces | Various | 14 on licence/1 on lease | £7,700 |
| Clerkson Street substation | 225 sq ft (20.90 sq m) | Powergen Energy Plc | 21 years exp 2019 | peppercorn |
| TOTAL | | | | £80,050 |
The areas are approximate and may not be verified.
Contact
Seller's solicitor
Mansfield District Council
Sam Reynolds
* Guide price
The guide price is an indication of the minimum price at which, or if a guide price range is given, within which, the seller is prepared to sell at the date of publication. The guide price is not an anticipated sale price or valuation. All prices quoted are subject to contract.
* Reserve price
The reserve price is the minimum price acceptable to the seller and the price below which the auctioneer cannot sell.
Both the guide and reserve may be subject to change up to and including the day of the auction. The guide price does not include either VAT which may apply to the sale or other amounts the seller may charge. The seller's Special Conditions of Sale and addendum if any, will state whether there are other seller's charges and whether the seller has elected to charge VAT on the sale price. On the fall of the hammer a buyer's fee is payable of £990 inclusive of VAT.
Register for updates
Sign up today to receive these benefits:
Receive new property notifications
Register for a catalogue
Receive market updates
Receive auction results